When is the best time to photograph newborns?
I recommend photographing newborns within the first 3 weeks of life if possible. This may alter due to circumstances and this is completely fine. I understand and relate as my first was born at 36 weeks and this threw a curve ball for myself so I understand when you're ready, I'll be ready.
Props and outfits?
I supply everything we need to create a beautiful newborn photoshoot from outfits, wraps, buckets, bowls, flowers ect. If there is something you would like to bring along feel free as I do like to get creative and something that's important to you can add that personal touch to your images.
Safety during newborn shoots
This couldn't be more important, please understand I have trained myself for this profession I have also trained myself extensively in photoshop and alot of my images arn't what they seem, they are two or three images joined together as I may have a parent holding the newborns head and I then edited it out afterwards.
I am also fully vaccinated including regular whopping cough boosters.
Style
This is a hard question for me to answer as I like to design a session around your style, your colour choices and style. If you would like a whole session done in white this is completely fine, if you would like every colour of the rainbow this is also fine. I like to think im adaptable and each and every session is different and customised to suit you!
Newborns I just love to photograph I opened my business in 2013 after working in the early learning industry predominantly working with babies the whole time. They change oh so quickly and I can't stress enough how important it is to capture this stage as those little features are getting bigger and bigger each day. 
I would just love it if you gave me the opportunity to photograph your newest addition to your family. Jump over to my contact page and book your session now: https://www.babysnapz.com.au/contact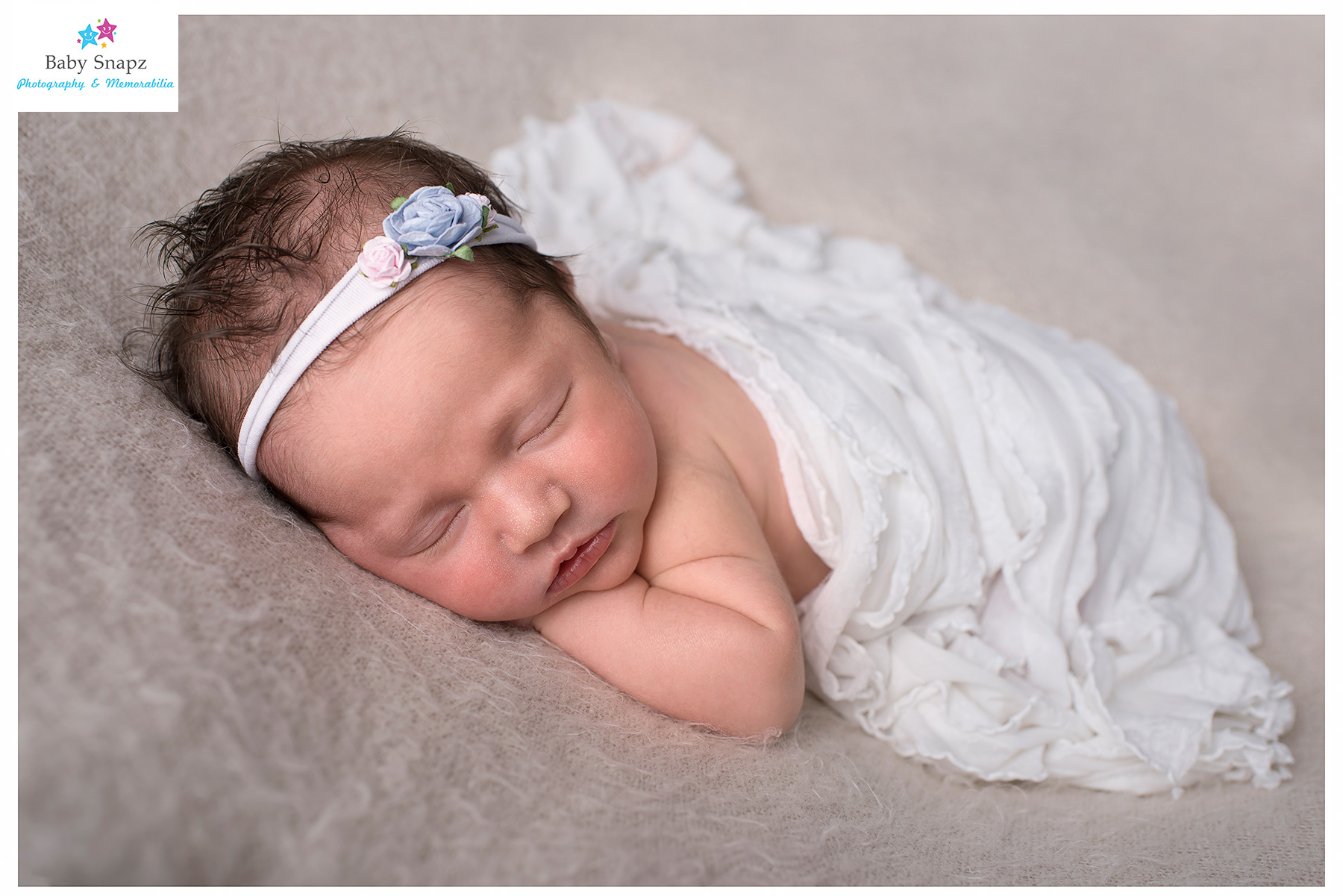 Wondering who is Baby Snapz???
Hi my name is Melina, most know me as Mel. The journey first began when I started working in a child care centre about 12 years ago, working in a babies room watching these beautiful children growing faster that I could believe infront of me eyes and their parents.
I needed to document this more than just what I was writing in their developmental journals I needed to photograph this journey they were on. Lets just say the parents received a whole slide show of their childs images on dvd at the end of year as Christmas gifts and seeing and hearing about how rewarding it was for them to see their childs journey at care through photographs got me hooked.
Then came one of my best friends having her baby. He was the most relaxed, chilled out baby allowing me to photograph him in a much more lifestyle form than what I do now but just to document all his tiny features was amazing. To this day I still remember his little freckle on his hand that I had to document in case it faded away- safe to say it's still there .
From this above photoshoot Baby Snapz was launched! This wasn't just going to be a hobby this was going to be a proper business so I made sure I got all my correct licences, insurances, made sure all my immunisations were up to date and bam it all began. 
I'm proud to say my whole business has been very much self taught I have watched and read countless books, articles, videos, tutorials and blogs to make me the photographer and business women I am today. 
Lots of people ask me what my style is? I never actually know how to answer this and this might be why people come to me as I like to explore with my clients the endless possibilies we can do to create a magical photoshoot.
Whether it's simple just caputuring their tiny details to me exploring a star wars concept even though i've never watched an episode in my life. I love to photograph and create, making a special photoshoot for each individual client.
As I ride into my 5th year of business I really couldn't have done it without the support of friends and family and to all my wonderful clients allowing me to photograph their precious children.
Personally I'm married with two little boys who don't have a choice but to love the camera, i'm located in Doreen Melbourne specialising in newborn and baby photography.
Thank you for taking the time to read my first blog